Ski Areal Aldrov - Vitkovice
Ski Areal Aldrov
Vítkovice
Ski & SNB School
tel: +420 777 939 080
Office: in the ground floor of the restaurant at the base station
And now we have also office at the top station of the chairlift - about 200 m from the car park.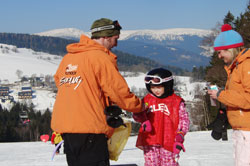 Welcome in the SNOWY centre for children and adults, for beginners and advanced. Would you like to improve your ski or snowboard technique?
Or would you rather try to enjoy a cross – country skiing trips in the beautiful mountains? You can also try snowblading, telemark or ski touring.
SKI &SNB SCHOOL SNOWY is here for you! Our qualified instructors will teach you how to improve your winter sports skills in an entertaining environment.
We also offer a special program for your children - let them play and learn how to ski in the children´s ski school. Rope – lift is for all ski school participants for free!
We are looking forward to your visit and wish you a pleasant stay in the Giant moutains!
News
...more»
We are looking new SKI TEACHER
...more»
FROM THIS SEASON WE ARE ON JANOVA HORA TOO. ...more»
ALL NEWS ABOUT US AND SKIAREAL ARE HERE. ...more»
We are here for you
Ski and snowboard school SNOWY
Marek Šablatura
Paseky nad Jizerou 236
512 47 Paseky nad Jizerou
tel.:+420 733 722 460
e-mail:info@snowy.cz