Ski and snowboard school
Ski areas:
Ski Areal Aldrov
Vítkovice
Ski School
tel: +420 777 939 080



Ski Areal Studenov - Horní Domky
Rokytnice nad Jizerou
Ski School & SNB School
tel: +420 777 939 080
WELCOME TO SNOWY.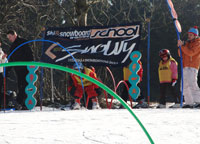 The SKI &SNB SCHOOL SNOWY is there for all who want to learn and improve the skills on the snow!
An expert team of qualified young people who will help you to select the right equipment and will teach you safe and right techniques of skiing and snowboarding.
Our effort is to get you ready for pleasant and fun moments in the mountains!
We offer:
CHILDREN´S SKI & SNB SCHOOL
SKI LESSONS
SNOWBOARD LESSONS
CROSS-COUNTRY SKIING LESSONS
TELEMARK LESSONS
SKI AND ADVENTURE SAFARI
CROSS COUNTRY TRIPS
GUIDE TO SKI TOURING
TEAMBUILDING ACTIVITIES ON THE SNOW
COURSES FOR NURSERY SCHOOL, PRIMARY SCHOOL, SECONDARY SCHOOL
Skiing and snowboard with us
If you wish to enjoy some new experiences in our Ski and SNB School, click on or fill in this form and we will contact you immediately.
News
ALL NEWS ABOUT US AND SKIAREAL ARE HERE. ...more»
We are here for you
Ski and snowboard school SNOWY
Marek Šablatura
Paseky nad Jizerou 236
512 47 Paseky nad Jizerou
tel.:+420 733 722 460
e-mail:info@snowy.cz